TRADEMARK PROTECTION
1. Trademark protection
GREENLAND
rotary is a registered trademark for protection with legal authorities, ensuring to provide customers with a good product and prohibiting patent infringement or copyright infringement on the
GREENLAND
brand.
2. Warranty terms and conditions
Warranty methods:
Free replacement of any parts defective in materials or workmanship due to Manufacturer's defects. The product does not apply the warranty to renew the rotary.The warranty only applies to the rigs sold through KBI's system. Warranty service will be performed by KBI or the General Agents authorized by KBI.
Warranty period: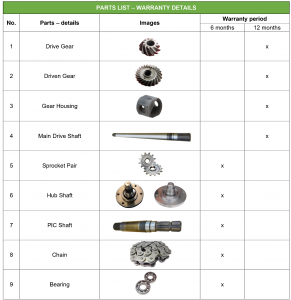 3. Cases not covered by warranty
The product is disassembled before KBI staff or Authorized Dealers come to inspect.
The Warranty Card cannot be provided or the information on the Warranty Card is invalid.
Damage caused by incorrect installation, use, maintenance or failure to perform maintenance according to the Manufacturer's "User's Manual".
Damage caused by natural disaster, fire or accident.
Damage caused by arbitrarily changing the structure of the Product without the consent of the Manufacturer.
Parts that wear out frequently during use such as: shafts, blades, pins, nuts, bolts, slipper. Details made of plastic, rubber, paint, decal.
4. Recommendation
To ensure your rights, you ask the seller to fill out the Warranty Card completely.
Before using the product, please read and follow the instructions in the "User Manual". If you have any questions, please contact Hotline 0969 090 207 for answers.
When damage occurs, the operator stops operating the rotary, keeps the damaged condition, contact the seller or Hotline 0969 090 207
5. Warranty coverage
Warranty for rotary products only.
KBI will not be responsible for any damage caused by damaged products such as: loss of revenue, crops, transportation costs, labor.